Nasce domenica 27 Settembre 1970 in Toronto, Ontario, Canada.
Persona conosciuta per
October Faction
(serie)
Conosciuto per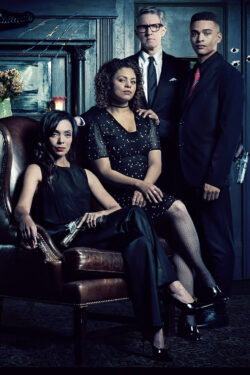 October Faction
(serie)
Biografia
Tamara Taylor starred on Fox's long running hit series BONES which concluded in the Spring of 2017. Shortly thereafter she landed a prominent role on Netflix's juggernaut release of the sci-fi series, ALTERED CARBON. And this year, Tamara scored the leading role on Netflix's original series, based on the graphic novel of the same name, OCTOBER FACTION, scheduled to premiere January 23, 2020. She is also starring in MARZIPAN that is slated to premiere later this year. Her career originally began with quick success in nationally televised commercials. Just months after moving to Los Angeles from her native Toronto, she booked parts both in television and film. Taylor's first big break came when she landed a series regular role on PARTY OF FIVE as 'Grace,' opposite Matthew Fox. Later, she starred as 'Dr. Ana Syphax' in Steven Bochco's drama, CITY OF ANGELS, with Blair Underwood; as 'Sarah,' opposite Paula Marshall on HIDDEN HILLS; and as 'Nina' in SEX, LOVE, AND SECRETS, with Denise Richards and Eric Balfour. Among dozens of memorable guest appearances, Taylor also was seen on LOST, NUMB3RS, CSI: MIAMI and NCIS. Taylor made her feature film debut in the romantic comedy SENSELESS starring David Spade and Rip Torn. She was also seen in the critically acclaimed cable biopic INTRODUCING DOROTHY DANDRIDGE; Tyler Perry's box office hit, DIARY OF A MAD, BLACK WOMAN; and Joss Whedon's sci-fi adventure, SERENITY. She currently lives in Los Angeles.
Filmografia
Al momento per Tamara Taylor non disponiamo di una filmografia.
Seriegrafia
Qui elencati solo i titoli per i quali è disponibile un collegamento ad una scheda su MovieTele.it
NEWS E ARTICOLI
Non abbiamo trovato notizie correlate a Tamara Taylor.
VIDEO CORRELATI A Tamara Taylor
Al momento per Tamara Taylor non disponiamo di video correlati.
Immagini
Al momento per Tamara Taylor non disponiamo di una galleria fotografica.

Per segnalare errori nella scheda (possibili anche in caso di omonimia) è possibile contattarci.