Scheda di Vincent D'Onofrio
Nasce martedì 30 Giugno 1959 in Brooklyn, New York City, New York, USA.
Persona conosciuta per
The Kid
(film),
Il giustiziere della notte (2018)
(film),
Full Metal Jacket
(film),
I magnifici 7
(film),
Ombre dal passato
(film),
Fire with Fire
(film),
Lift
(film),
Sinister
(film),
Echo
(serie),
Jurassic World
(film),
Run All Night – Una notte per sopravvivere
(film),
The Ring 3
(film),
Staten Island
(film),
CHIPS
(film),
In Dubious Battle – Il Coraggio degli Ultimi
(film)
Biografia
Lo vedremo presto dietro la macchina da presa con il suo debutto alla regia in The Kid, basato sul famigerato bandito 'Billy The Kid'. Il film è interpretato da Ethan Hawke e Dane DeHaan, ed è pronto per essere girato il prossimo autunno. Attualmente Vincent sta girando la nuova serie paranormale di SyFy Ghost Wars di cui è il protagonista e che uscirà entro la fine di quest'anno. Vincent ha recentemente terminato le riprese di El Camino Christmas con Jessica Alba e Tim Allen. Sul piccolo schermo, Vincent ha recentemente interpretato il ruolo del Mago nella rivisitazione del Mago di Oz per NBC. La miniserie di 10 episodi è stata diretta da Tarsem Singh, con cui Vincent ha lavorato anni prima in The Cell, al fianco di Jennifer Lopez. L'anno scorso Vincent ha recitato nel film di MGM I magnifici 7, dove interpreta uno dei sette fuorilegge, con Denzel Washington, Chris Pratt ed Ethan Hawke; ha anche recitato in In Dubious Battle, basato sul romanzo di John Steinbeck, diretto da James Franco, con Bryan Cranston , Ed Harris e Selena Gomez. Anche il 2015 è stato un anno intenso per D'Onofrio, con il successo di Jurassic World e il ruolo nella serie di Netflix Daredevil, al fianco di Charlie Cox. In precedenza, ha anche recitato in Run All Night con Liam Neeson e The Judge, con Robert Downey Jr. e Robert Duvall. D'Onofrio è nato a Brooklyn, New York, ed è cresciuto tra le Hawaii, Colorado e Florida. Poi è tornato a New York per studiare recitazione presso l'American Stanislavsky Theatre con Sharon Chatten dell'Actors Studio. Nel 1984 divenne membro a pieno titolo dell'American Stanislavsky Theatre, apparendo in The Petrified Forest, Of Mice and Men, Sexual Perversity in Chicago e The Indian Wants the Bronx. Quello stesso anno ha debuttato a Broadway in Open Admissions. Recentemente ha recitato off-Broadway nello spettacolo di Sam Shepard Tooth of Crime (Second Dance). D'Onofrio ha attirato l'attenzione su di sé per il suo ruolo nel 1987 di una recluta durante la guerra del Vietnam in Full Metal Jacket di Stanley Kubrick. Le sue prime apparizioni cinematografiche includono anche Mystic Pizza e Adventures in Babysitting. Ha anche recitato al fianco di Jennifer Lopez e Vince Vaughn nel film noir di fantascienza The Cell. I suoi altri crediti cinematografici includono: JFK – Un caso ancora aperto, I protagonisti, Mister Wonderful, Ed Wood, Due mariti per un matrimonio, Men in Black, Amore a doppio senso, Ti odio, ti lascio, ti…, Sinister, Fire with Fire, Escape Plan – Fuga dall'inferno, Run All Night – Una notte per sopravvivere, Pelé, The Ring 3, CHiPs. Tra le sue prossime apparizioni cinematografiche anche il film indipendente Chained, della sceneggiatrice e regista Jennifer Chambers Lynch. D'Onofrio ha interpretato il ruolo del detective Robert Goren in oltre 100 episodi della serie Law & Order: Criminal Intent. D'Onofrio ha diretto, prodotto e recitato nel cortometraggio Five Minutes, Mr. Welles e di recente è apparso nel cortometraggio vincitore di un Oscar® The New Tenants.
Filmografia
Cast Artistico
Qui elencati solo i film per i quali è disponibile un collegamento ad una scheda su MovieTele.it
Seriegrafia
Cast Artistico
Qui elencati solo i titoli per i quali è disponibile un collegamento ad una scheda su MovieTele.it
NEWS E ARTICOLI
VIDEO CORRELATI A Vincent D'Onofrio
Immagini
[Schermo Intero]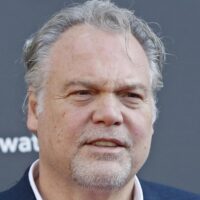 Per segnalare errori nella scheda (possibili anche in caso di omonimia) è possibile contattarci.