Nasce domenica 26 Dicembre 1971 in Bossier City, Louisiana, USA.
Persona conosciuta per
Dallas Buyers Club
(film),
Blade Runner 2049
(film),
Zack Snyder's Justice League
(film),
La Casa dei Fantasmi
(film),
Morbius
(film),
WeCrashed
(serie),
Lonely Hearts
(film),
Suicide Squad
(film),
Mr. Nobody
(film),
House of Gucci
(film),
Chapter 27 – L'Assassinio di John Lennon
(film),
American Psycho
(film),
Lord of War
(film),
Tron: Ares
(film),
Fino all'ultimo indizio
(film)
Biografia
Jared Leto è un attore, un musicista e un regista. La sua carriera ventennale come attore è costruita su personaggi intensi e diversi l'uno dall'altro interpretati in una serie di importanti film tra i quali Requiem for a Dream di Darren Aronofsky, insieme a Ellen Burstyn, Jennifer Connelly e Marlon Wayans; Prefontaine di Steve James, nei panni di un atleta realmente esistito, Steve Prefontaine; Chapter 27 di J.P. Schaefer, per cui ha vinto all'unanimità il Premio del Pubblico al Festival di Zurigo nel 2007; Fight Club con Brad Pitt e Edward Norton, e Panic Room, con Jodie Foster e Forest Whitaker, entrambi di David Fincher; American Psycho di Mary Harron, al fianco di Christian Bale; Lord of War di Andrew Niccol, con Nicolas Cage e Ethan Hawke; Alexander di Oliver Stone, accanto a Colin Farrell; Lonely Hearts di Todd Robinson, al fianco di Salma Hayek; Ragazze, Interrotte di James Mangold, con Winona Ryder e Angelina Jolie, vincitrice di un Oscar; La Sottile Linea Rossa di Terrence Malick; Mr. Nobody di Jaco Van Dormael, con Sarah Polley, Rhys Ifans e Diane Kruger. Ha vinto di recente un Gotham Independent Film Award con il documentario Artifact, da lui prodotto insieme a Emma Ludbrook. Artifact è stato premiato all'unanimità anche con il Gothams' Audience Award e con il Premio del Pubblico al Festival Internazionale del Cinema di Toronto nel 2012. Leto ha utilizzato lo pseudonimo holomew Cubbins per firmare la regia. Con lo stesso nome ha diretto video musicali per la rock band Thirty Seconds to Mars, più volte disco di platino. Leto è il cantante, chitarrista e compositore della band composta anche dal fratello, Shannon Leto e Tomo Milicevic. I Thirty Seconds to Mars hanno pubblicato quattro studio album, compreso Love Lust Faith + Dreams nel 2013. Tra i brani più famosi e trasmessi alla radio ci sono "This Is War" e "Kings and Queens." La band ha viaggiato con una tournée mondiale che ha spesso riportato il tutto esaurito, oltre 300 concerti sparsi in quasi 60 paesi nei sei continenti e 3 milioni di spettatori complessivi, un record da Guinnes dei Primati: è stato il tour più lungo nella storia di una rock band. I Thirty Seconds to Mars hanno venduto oltre 5 milioni di dischi nel mondo e i loro video sono stati visualizzati da più di 300 milioni di persone su YouTube. Il gruppo ha ricevuto numerosi riconoscimenti, compresi parecchi MTV Award, un Billboard Music Award e riconoscimenti da NME (New Musical Express), Kerrang! e Fuse (riviste di settore). Ultimamente sono stati candidati a tre MTV Video Music Awards nel 2013 incluso Best Rock Video.
Filmografia
Cast Artistico
Qui elencati solo i film per i quali è disponibile un collegamento ad una scheda su MovieTele.it
Seriegrafia
Cast Artistico
Qui elencati solo i titoli per i quali è disponibile un collegamento ad una scheda su MovieTele.it
VIDEO CON Jared Leto
VIDEO CORRELATI A Jared Leto
Immagini
[Schermo Intero]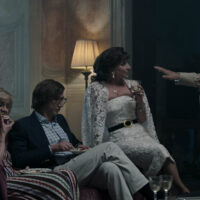 Per segnalare errori nella scheda (possibili anche in caso di omonimia) è possibile contattarci.