Conosciuto per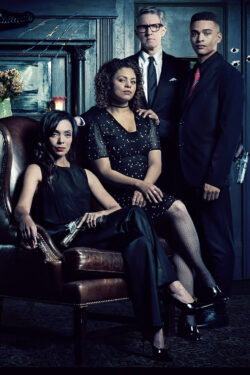 October Faction
(serie)
Biografia
Gabriel Darku was born in Saint John, New Brunswick and raised in Yellowknife in the Northwest Territories, Canada. Growing up, Gabriel did not know he wanted to be an actor. In grade school, he was well known for his athletics, and at one point, he even competed as a national level gymnast. He also had a significant interest in music; playing saxophone at high school concerts and jazz bands, as well as teaching himself to play guitar and drums. Gabriel's interest in acting started when he was cast in a McDonald's commercial in 2012 after he entered a contest for employees to appear in front of the camera. After he made it through the shortlist rounds and the live audition, Gabriel was one of seven people selected for the commercial spot, which aired during the 2012 London Olympics. It was this experience that made him realize that he wanted to pursue acting as his professional career. From there, Gabriel moved to Toronto where he continued to chase his passion by attending the Toronto Film School. After graduating in 2015, he went straight to work auditioning for several roles. By the end of that year, Gabriel had been booked on multiple shows and received union status. His first big break came when he was cast as a lead role in REBOOT: THE GUARDIAN CODE (YTV/NETFLIX). Since then, Gabriel has appeared in several major film and television productions including SHADOWHUNTERS: THE MORTAL INSTRUMENTS (FREEFORM/NETFLIX), PRIVATE EYES (GLOBAL), AMERICAN GODS (STARZ/AMAZON PRIME), SLASHER (NETFLIX), and IMPULSE (YOUTUBE PREMIUM), among others. Coming up next, you can catch Gabriel as Geoff Allen in the new highly anticipated Netflix series OCTOBER FACTION which follows the adventures of a retired monster-hunter and his family. Outside of acting, Gabriel enjoys fitness, sports, music and video games.
Filmografia
Al momento per Gabriel Darku non disponiamo di una filmografia.
Seriegrafia
Qui elencati solo i titoli per i quali è disponibile un collegamento ad una scheda su MovieTele.it
NEWS E ARTICOLI
Non abbiamo trovato notizie correlate a Gabriel Darku.
VIDEO CORRELATI A Gabriel Darku
Al momento per Gabriel Darku non disponiamo di video correlati.
Immagini
Al momento per Gabriel Darku non disponiamo di una galleria fotografica.

Per segnalare errori nella scheda (possibili anche in caso di omonimia) è possibile contattarci.