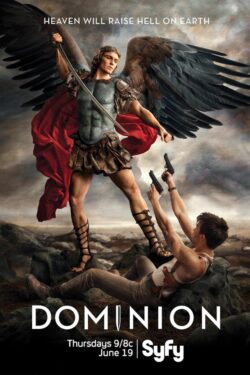 TRAMA
Alex è in preda al panico, quando The Flood comincia. Michele è ferito gravemente e all'ospedale non lasciano che il ragazzo assista all'operazione. Per di più Alex è, agli occhi della giustizia di Vega, un disertore e perciò meritevole dell'arresto. Quando però il ragazzo viene condotto insieme agli altri criminali della stazione di polizia è costretto ad aggredire una guardia per impedire che gli venga chiesto di spogliarsi, mettendo così in mostra non solo i tatuaggi, ma anche la sua natura di Prescelto. Natura che è giunta fino alle orecchie del consigliere che decide di prendere in ostaggio sia Edward, sia David che l'intera scorta di cibo di Vega. Chiusi in una torre che rimanda quasi a quella di rapunzeliana memoria, i tre uomini cominciano a giocare una partita a scacchi col destino. Edward e David sono più che mai ansiosi di tenere all'oscuro il popolo della presenza del Prescelto; decisione, questa, che francamente ci sta facendo un po' innervosire. Con suo padre rinchiuso, Claire viene eletta Lady della Città e dunque guida per tutta Vega. Così mentre i suoi consiglieri, William e Becca, consigliano di dar via ad un intervento armato per salvare gli ostaggi, Claire è persuasa che la scelta migliore sia dare al "rapitore" esattamente quello che vuole: il Prescelto. Così Alex è costretto ad accettare il suo ruolo: salvatore di Vega, si erge a difesa della sua terra e accetta di farsi avanti, dando prova di essere veramente il bambino salvato da Michele. La scena è molto bella, a tratti commovente, facendo sperare Alex in un futuro migliore. Purtroppo, però, David Whele è sempre in agguato: passato il pericolo di annegamento imminente, infatti, l'uomo spara alla testa del suo rapitore, tenendo oscura ancora una volta la vera natura di Alex. Oltretutto David ha scoperto che la fuga di notizie è avvenuta a causa di Bixbi; per questo si reca, sul finire dell'episodio, nella stanza d'ospedale dove la bambina è in degenza. Ne aumenta a dismisura la dose di morfina, uccidendola lentamente. Non serve il suo tono soave, nè la carezza che concede al volto di Bixbi. Se il suo omicidio è andato a buon fine – lo scopriremo nel prossimo episodio – David meriterà le pene dell'inferno e non vediamo l'ora di vedere il momento in cui Alex, che nel frattempo accetta di farsi addestrare da Michele, tornerà a chiedere vendetta.
---
Having been arrested for desertion, Alex is dragged off to prison where he's beaten up. Prison's a rough place in Vega, as you might expect, and prisoners are generally strip-searched. This would mean that the guards would see his "Chosen One" tattoo, and so Alex chooses to get himself thrown into solitary confinement rather than face the guards in the, shall we say, altogether. Across Vega, Michael is healed by a mysterious, unseen person who lights an angel feather on fire and drips the wax (or whatever it is) all over him. He wakes up in bed with Becca and tries to break up with her because he thinks she deserves better than him. This happens a lot in Vega, but love usually wins out, and Becca says she's not going anywhere. While they're sleeping, a blonde woman sneaks into the bedroom with a pretty awesome sword and tries to kill Becca. Michael thwarts this plan, and it turns out the blonde woman's name is Uriel and she's Michael and Gabriel's sister. That morning, Claire goes to visit Bixby in the hospital, and Bixby, who seems to be on a lot of medication, mentions that she actually saw The Chosen One. Claire tells her to keep quiet, but Senator Frost has heard the whole thing. Immediately afterward, Senator Frost tells the Senate that they should ignore all their other problems and make revealing The Chosen One their top priority. Pretty much everyone calls him a foolish old man and they all move on. Uriel, it turns out, has called Gabriel and Michael to the San Francisco Public Library, where she's collecting art of them. Uriel tells them that it's time for a family meeting, and we learn that she's never chosen sides between them. In prison, Alex has a groovy psychedelic fever dream. Water pours all over him and the tattoo changes so that the words: "She died for you" appears on his arms. Alex wakes up to find Claire has come to visit him. He tries to convince Claire that since everyone he comes in contact with seems to get hurt, it's probably just best that he stay in prison. Claire tells him he's abandoning Bixby just like his father abandoned him and ultimately, frees him from jail. Meanwhile, Noma has been posted to guard Arika, who flirts with her and tells her that at some point, she'll be the leader of Helena, and when that happens she'll need a bodyguard. She's basically offering Noma the job, and Noma considers it. Alex visits Bixby in the hospital and she tells him that her getting hurt when Felicia the angel attacked – is not Alex's fault. Alex disagrees and they share red jello. David Weel and General Riesen are summoned to Vega's agriculture center, where Senator Frost basically reveals himself to be a James Bond-level supervillian. He has a device that can flood all the crops at the touch of a button, and he'll use it if he's not given an meeting with the Chosen One. In the Senate, with David and General Riesen missing and presumably locked in the agricultural tower, Becca appoints Claire the Lady of the City. Which means she's fully in charge and needs to make a decision about their course of action – raid the tower or not. Back in the library in San Francisco, Uriel and Michael commiserate over the fact that their father (God) is gone and that they both miss him. Back in the agriculture tower, David tries to appease Senator Frost and take his phone away, but the Senator gets an itchy trigger finger, flips out, and shoots David in the leg. As the Core (the police) start to move in, Noma and Ethan tell Alex that all Senator Frost really wants is an meeting with The Chosen One. When the Core leaders won't listen to Alex, Claire pulls rank and sends Alex in as a negotiator. Alex takes his shirt off and the Senator sees the tattoo but still doesn't believe him. When Senator Frost asks him for real proof, Alex takes a stab in the dark and says: "She died for you." Senator Frost reveals that this message was indeed meant for him, and he believes Alex is The Chosen One. All is well, until General Riesen shoots Senator Frost anyway. He rationalizes that the secret about The Chosen One can't get out. We get a brief glimpse of Becca studying the sword that harmed Michael and seeming like she's on to something. Uriel and Gabriel face off and it seems as though she's being swayed to join him in his quest to take back The Chosen One, and finally… David comes to visit Bixby in the hospital. He grabs her hand, makes sure she's okay, and then turns the respirator off and kills her. Rest In Peace, Bix.
SCHEDA EPISODIO
Serie Televisiva:
Dominion
Stagione:
1 -
Episodio:
4
Titolo Italiano:
The Flood
Titolo Originale:
The Flood
Prima Visione Assoluta:
giovedì 10 Luglio 2014 su Syfy
Prima Visione USA:
giovedì 10 Luglio 2014 su Syfy
Prima Visione Italia:
mercoledì 24 Giugno 2015 su Rai 4
Nazione:
USA
Durata:
90 minuti
Genere:
Azione, Drammatico, Fantasy
Cast e personaggi
Cast non disponibile per l'episodio 4 della 1a stagione della serie Dominion
---
Cast e Ruoli principali della serie Dominion:
Recensioni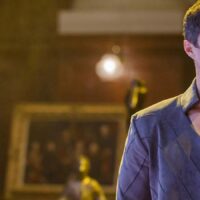 Recensione Dominion 1x04 - The Flood
Erika Pomella, voto 7/10
'The Flood' è un episodio incentrato quasi interamente sul sentiero che, finalmente, conduce Alex all'accettazione del suo ruolo e del suo potere. In arrivo un nuovo, machiavellico personaggio che di sicuro avrà il compito di complicare ancora di più la guerra tra uomini e angeli.
NEWS E ARTICOLI
Non sono disponibili articoli o notizie correlate all'episodio 4 della stagione 1 della serie Dominion
VIDEO
Non sono disponibili video correlati all'episodio 4 della 1a stagione della serie Dominion
Immagini
Non sono disponibili immagini correlate all'episodio 4 della 1a stagione della serie Dominion