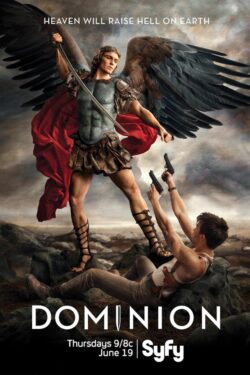 TRAMA
---
Starting with something new this episode, the Babylonian desert in 1900 BC: where a child gets up and flees a pretty serious massacre of legless people. He is greeted by Michael, who tells him not to be afraid. And then Gabriel shows up and…back to the present. Gabriel is drinking some wine and sending away his weird buddies. He works his way into the brain of Louis, that lower angel from the marketplace. And has a peach. Out in the desert, Michael and Alex are trying to evict the angel from an 8-ball who is bumming smokes from a dead couple in a trailer. Alex is trying to learn how to permanently evict more angels from people, and it's not going great and he ends up having to kill the 8-ball. Meanwhile, after having his ribs cracked, David Whele is sleeping as William tries to take care of him. David is understandably furious about how it's all gone. William would love to stay and chat about how much beef they have in their past, but Claire drops in to discuss moving the wedding up. She's made up a lie that her dad's heart probably can't take running the city anymore. William is pretty thrilled, and has a lie of his own – that his dad has pneumonia. That night in the shower, Noma and Alex have a slapping fight, because that's how they roll in a co-ed shower. And then, because they're naked and share a sexy past, they have sex in the room where they store pillows. While that happens, Gabriel hangs out in the infirmary, pretending to be Louis and trying to convert a few of the male nurses. By the next morning, Becca discovers several dead bodies hanging from the rafters. Turns out they're higher angels who were living quietly in the city walls until Gabriel got a hold of them. Becca confronts Michael to see if he knew that the other angels were in the city walls. He tells her to keep her distance. The problem is that the angels were simply refugees. And now Michael is worried about the rest of the angel refugees. He had hoped to keep them a secret, but now that someone is murdering them, he needs Alex to warn the others. David gets dressed and finds his way out of the hotel room, where he's instantly seized upon by a guard and thrown to…yes, the lions. Michael heads to San Francisco to chat with his sister Uriel, who is still hanging out in the library, but now all the artwork is scattered and trashed. It turns out that Gabriel roughed her up trying to get the information about The Chosen One. In exchange, she revealed the identity of some of the neutral higher angels. The ones who died, in fact. Back in Vega, Alex goes to see Louis, who is possessed by Gabriel. Alex and Gabriel have a conversation wherein Alex learns more about Michael's past over a few beers. Meanwhile, David has been locked inside a lion's cage where he is given the choice to shoot his way out or shoot the lion. David finally breaks down crying and tells William that his mother would be ashamed. Then he shoots the Lion anyway. Noma confronts Alex in the locker room. Alex confesses that he's starting to have doubts about Michael. Noma has to go because her girlfriends are waiting to go out, but they agree to talk about it later. Meanwhile, Gabriel summons Alex to Michael's lair. Gabriel talks again about his pudding. And then pushes Noma out the window. Turns out she's an angel! Alex is understandably upset and freaks out at Michael about not telling him that Noma is an angel. And Gabriel is really enjoying this. He reveals himself, and he and Michael fight about what's happening until Alex performs an eviction and pushes Gabriel out! BUT, don't think the day is won! As Gabriel comes back to his lair, he finds Uriel. Turns out that the whole thing was a game to prove that Alex is The Chosen One. By the end, David Whele turns out to be completely in on William's weird hostage situation. And lets him feed him soup. Looks like there's been a shift in the balance of power. Meanwhile, Gabriel and Alex inspect the bodies of the dead angels that tried to flee the city, and though Noma is not among them, Alex tells Michael that he knows more about "the flood." And back to the flashback from the opening. It turns out that Michael was slaughtering humans and Gabriel and Uriel showed up to stop him. Michael as a cold-blooded killer of humans? Can that be?
SCHEDA EPISODIO
Serie Televisiva:
Dominion
Stagione:
1 -
Episodio:
7
Titolo Italiano:
Ouroboros
Titolo Originale:
Ouroboros
Prima Visione Assoluta:
giovedì 31 Luglio 2014 su Syfy
Prima Visione USA:
giovedì 31 Luglio 2014 su Syfy
Prima Visione Italia:
mercoledì 1 Luglio 2015 su Rai 4
Nazione:
USA
Durata:
90 minuti
Genere:
Azione, Drammatico, Fantasy
Cast e personaggi
Cast non disponibile per l'episodio 7 della 1a stagione della serie Dominion
---
Cast e Ruoli principali della serie Dominion:
Recensioni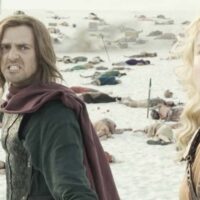 Recensione Dominion 1x07 - Ouroboros
Erika Pomella, voto 9/10
Ad un solo episodio dal season finale, 'Dominion' ci regala una puntata piena di colpi di scena. Il ritorno - atteso - di Gabriele porta alla luce altre menzogne, tradimenti e ribaltamenti di potere.
NEWS E ARTICOLI
Non sono disponibili articoli o notizie correlate all'episodio 7 della stagione 1 della serie Dominion
VIDEO
Non sono disponibili video correlati all'episodio 7 della 1a stagione della serie Dominion
Immagini
Non sono disponibili immagini correlate all'episodio 7 della 1a stagione della serie Dominion